The Ramakrishna movement in Madurai was formed by a few ardent devotees of Madurai. With the advice and inspiration from Rev. Swami Vireswaranandaji Maharaj Sri Ramakrishna Ashrama, a private centre was started and legally registered in 1975. The Ashrama at Madurai, with an area of 3.09 acres, was formally affiliated to Belur Math in 1987. The new temple was consecrated in the year 1998.
Important events in the History Ramakrishna Movement in Madurai
Visit of Sri Ramakrishna's Father (Sri Kshudiram Chatterjee)
Visit of Holy Mother Sri Sarada Devi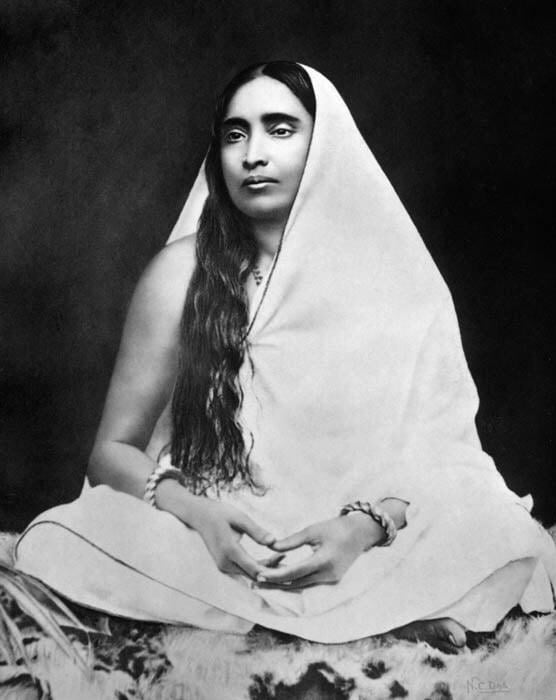 Holy Mother Sri Sarada Devi in Madurai
Sri Sarada Devi, the Holy Mother, accompanied by a big party, stayed for a few days at Madurai in 1911 and worshipped goddess Meenakshi. The whole visit was arranged by the scrupulous care of Swami Ramakrishnananda, a direct disciple of Sri Ramakrishna, who accompanied them to see personally to their conveniences. Read more…(Their train reached Madurai in the morning and they were taken to the house of the Chairman of the local Municipality. The Mother and others visited the temple in the afternoon. They bathed in the Shiva-ganga pond and then visited the deities. Then, in accordance with the local custom, they lighted up lamps on the banks of the pond in each one's name before returning to their residence. They visited among other places the palace of Tirumal Nayakka and the Mariamman Teppakulam. All these sights made the Mother exclaim, "How wonderful is the play of the Master". From here Swami Ramakrishnananda took them to Rameswaram (see section on Rameswaram: Holy Mother Sri Sarada Devi, by Swami Gambhirananda, pp 243-246)). On their return also they rested for a day at Madurai, before leaving for Madras).
Visit of Swami Vivekananda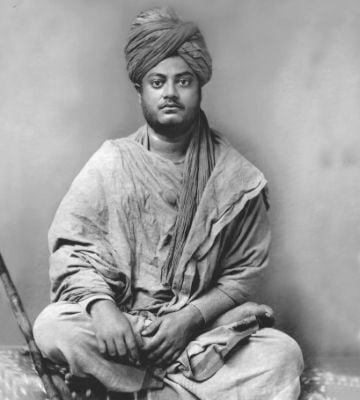 Swami Vivekananda in Madurai
Swami Vivekananda came to this Temple City for the first time in 1893 and stayed for three days. Read more…(The following account is based on Sri G.T. Krishnamurthi's (unpublished) conversation with one Smt. Lakshmi, daughter of Sri Narayana Iyer, advocate, whom Swamiji met at Madurai.
"Swami Vivekananda came to the temple of Meenakshi in the beginning of 1893. Out of curiosity a few educated men surrounded him, seeing him and his majestic appearance. The Swami told them, he wanted to meet Bhaskara Sethupathy, the Raja, and enquired if anyone was a friend of the Raja. The gentleman suggested to him to meet advocate Narayana Iyer known to the Raja and gave Iyer's address. At once Swamiji came to father in the morning at about 9'o clock. Father (eminent young lawyer who was a medallist in Hindu law - K) was then talking to the clients in his room. As soon as father saw the Swami enter the room, he rose up and gave him a seat and enquired. Swami told him if he could arrange for his interview with Mr. Bhaskara Sethupathy. At once father after asking the clients to wait a bit, took the Swami in a bandy to father's Sambandhi Mr. Subbiah, Advocate, who was also the public prosecutor of Ramnad Dist court. At that time it was about 10 a.m. and Mr. Subbiah who was a close friend of Sri Bhaskara Sethupathy was just starting to go to the court. After meeting and speaking with Swamiji and Narayana Iyer, since he had to go to court urgently he at once gave to the Sethupathy an introduction letter writing highly about the Swami and then Father arranged for the Swami meeting with Sethupathy and hurried to his house since his clients were waiting there for him. When later father read in the papers about the success of Swami Vivekananda in America, he rejoiced very much and then told me all these particulars. I was not fortunate to see the Swami myself."
Again he visited Madurai on his triumphant return from the West in 1897. He was accommodated in the palace of the Raja of Ramnad. An address of welcome was presented to him in a velvet casket. In reply he gave a lecture, "What We Ought To Know" to a large learned gathering. He spoke of the religious revival going on in India. She had to steer a course between the fanaticism of Orthodoxy and the soullessness of Europe-inspired social reform. She had to distinguish between essentials and non-essentials in finding her true course.
While in Madurai, the Swami was interviewed by reporters which appeared in the newspaper "The Hindu", February 1897. While the interview was being conducted, the time appointed in the programme for his visiting the Meenakshi temple arrived. He accordingly took leave and proceeded to visit the Temple where he was received with great respect, spoke with the temple priest, and referred enthusiastically to the architecture and sculpture of the temple. The temple jewels were brought out and shown to him and his western disciples. The Indian Mirror dated February 11 reported his visit to Madurai thus:
Madura, 3rd February: The Swami Vivekananda and party arrived half past ten yesterday. They were received by the public with temple Stalangam. In the afternoon, the Swami answered questions on Hindu philosophy. He visited the temple whence he drove to the College, where he received a public address and replied to it. The audience numbered upwards of 2000. The Swami said, "India has a mission, namely, that of spreading spirituality through the world. It is as impossible for Hindus to cast aside scores of centuries of spiritual training as for the Europeans to leave their few centuries of growth. When its Europeanization was complete, India will die as a nation.... Distinguish the permanent in Hinduism from the accidental, then India's mission in the world will be fulfilled." The Swami left at night. He stays at Kumbakonam today).
Visit of other Direct Disciples of Sri Ramakrishna
● Swami Shivananda, came all the way to Madurai from Calcutta to receive Swami Vivekananda.
● Swami Niranjanananda, another brother-disciple, had gone to Colombo itself to receive Swamiji. They accompanied Swamiji on his journey to Calcutta.
● In 1909, Swami Brahmananda, the spiritual son of Sri Ramakrishna, visited Madurai along with Swami Ramakrishnananda. They stayed in Madurai for three days. Even before visiting the temple, from the morning itself he was telling others that he was feeling something and that some great thing was going to take place when he visits the temple. When Maharaj entered the shrine of Sri Meenakshi, he saw the image of the Mother living and moving towards him. He entered into deep samadhi, which lasted for almost an hour. Swami Ramakrishnananda held him up there, himself all the while in an ecstatic mood with tears flowing from his eyes, singing Mother's praise over and over again. All those who were present at that time were amazed to see this transcendental state of Sri Sri Maharaj. When coming out of the shrine in an outer hall, Swami Ramakrishnananda saw the image of Adi Shankara. He was seized with the longing to touch the feet of the image with his head. But the priests would not allow him. Nevertheless, he pushed them aside, saying, "Who can prevent my worshipping the great one?" He went near and had his desire fulfilled.
● Further, some other disciples of Sri Ramakrishna - Premananda, Subodhananda, Vijnanananda, Trigunatitananda and Abhedananda also came to Madurai on pilgrimage.
The Ramakrishna movement was formed by a few ardent devotees of Madurai. It was during this visit that Rev. Swami Vireswaranandaji Maharaj sowed the seed for a Private Centre at Madurai. Rev. Prabhu Maharaj felt the need for a Math centre in Madurai as many sadhus and devotees of our Order will visit Madurai to have darshan of Mother Meenakshi, on their way to Rameswaram and Kanyakumari. On his advice and inspiration Sri Ramakrishna Ashrama, a private centre was started with Sri K.Ardhanari as the Secretary and Dr.S.Shanmugam as the President.
The Pioneering devotees before starting of ashrama

Mrs. and Mr. Natarajan are among the earliest devotees of Sri Ramakrishna in Madurai. Many of our sadhus who used to visit Madurai used to be hosted by Mrs. and Mr. Natarajan from the year 1947 to 1964. Mrs. Natarajan later took joined the Sri Sarada Samithi, Salem and took sannyasa vows with the name Yatiswari Shivapriya. Later she became the head of Sri Sarada Samithi, Madurai.
Sri K.Ardhanary, a pious householder, was a neighbour of the Mrs. and Mr. Natarajan. He had a small cloth shop which was run on very ethical lines.He was influenced by Ramakrishna Vivekananda literature through his uncle and also through Mrs. Kamala Natarajan. Being their neighbour and devotee, Sri Ardhanary had the opportunity to serve the visiting sadhus and get their holy company. In course of time, his whole family became deeply devoted to Sri Guru Maharaj, Sri Ma & Swamiji, and they considered the sadhus as the living representatives of the Holy Trinity.
In 1962, there was a big calamity in Rameswaram and a whole island was washed out. Relief work was started by the Ramakrishna Mission. Rev. Swami Sarvajnanandaji Maharaj of Nattarampalli centre, was incharge of the relief camp. Ardhanary helped Swami Sarvajnanandaji to procure all the materials needed for the relief. Many sadhus came from different parts of India to attend the relief camp and also on pilgrimage to Rameswaram and Kanyakumari.
Sarvajnanandaji suggested to Ardhanary to host all the visiting sadhus. From then on all the sadhus visiting Madurai on pilgrimage were hosted by Ardhanary in his house. He looked after the sadhus with great love and respect. He received them in the Railway Station, nicely fed them, took them to Sri Meenakshi Temple and other places of interest, and after two or three days saw them off to Rameswaram or Kanyakumari. On their return journey they used to stay in his house for a day or two. He had a car, which he used mainly for sadhuseva, and very less for his personal work. Nuns of the Sarada Math were also hosted by Ardhanari's family. He used to take autographs from the visiting sadhus as a blessing. These autograph books which their family agreed to show after a great deal of persuasion reveal that more than 400 sadhus and about 50 pravrajikas were hosted by them from the year 1964. There may be more unrecorded visits. The family keeps it as a great treasure. The following incident is an example of their love for sadhus. Swami Gautamanandaji Maharaj while on his first visit to Madurai, put up in a hotel after trying in vain to locate Ardhanary's house with his insufficient address. Later in the day when Ardhanary came to know that a sadhu was searching for him in his locality, he checked up all the hotels in the city, found the swami and persuaded him to come and stay in his house. While leaving Madurai, Swami
Gautamanandaji wrote in the autograph book, "We belong to one ideal that is Sri Ramakrishna and hence it is very natural that we feel so free and frank like brothers after such a short meeting".
Sri Ardhanary had his intiation from Rev. Swami Vireshwaranandaji Maharaj at Chennai in 1966.
Madurai gerua is famous for its colour. There was great demand for the same from various centres and sadhus. Ardhanary used to procure gerua bags at his own cost and supply to Belur Math and many of our centres like Rajkot, Narendrapur, Institute of Culture, Ulsoor, etc., on request. He also used to help young men to join the Math.
Many Senior sadhus including Revered Swami Vireswaranandaji Maharaj, President of the Order, visited Madurai and stayed in Sri Ardhanary's house. Revered Swami Bhuteshanandaji Maharaj, Revered Swami Ranganathanandaji Maharaj, and Revered Swami Atmasthanandaji Maharaj also stayed there. Revered Swami Ranganathanandaji Maharaj has stayed many times in his house when he visited Madurai, Sivakasi and Kanyakumari for a series of lectures.
Dr.Shanmugam, a famous surgeon of Madurai, is another pioneer. He is in touch with Madras Math for a long time. During his students days (1940 – 1945) in the Madras Medical College, he, Dr. Krishnan of Ooty and Dr. Balagopal Raju of Madras, Child Specialist, used to frequent the Math and meet Revered Swami Kailasanadaji Maharaj. The Swami received them cordially, talked about Sri Thakur to them, loved & cared for them and in due course sent all the three of them for initiation to Visakhapatnam where Revered Swami Virajanandaji Maharaj was taking rest. Swami Kailasanandaji Maharaj advised Dr. Shanmugam to settle down in Madurai for practice, so that he can do the Medical Practice and also attend to the family work. He came back and settled in Madurai from 1947. He opened his own clinic and had a roaring and successful practice. He was also an Honorary surgeon and Hon. Professor of Surgery at Madurai Medical Hospital and College. He also used to host sadhus as and when required. His wife, Nachhammai Achi, hailing from a village background also developed a strong devotion to Sri Ramakrishna and Holy Mother (Annaiyar). She received initiation later in 1970 when Rev. Vireswaranandaji Maharaj visited Madurai. She served sadhus with great faith and devotion.
Another youngster, Sri G.A. Ramamurthy, had an occasion to see the picture of Sri Ramakrishna for the first time in a label pasted on the dhoti he purchased. He became very much attracted to Sri Guru Maharaj and began to read his books. He wanted to be of service to Sri Ramakrishna and started the Sri Ramakrishna Samajam in a rented house in the year 1941, when he was barely 23 years old. A group of devotees, mainly from the Saurashtra community, used to conduct arati, ekadashi bhajans and celebrated birthdays of the Holy Trinity. Spiritual retreats were conducted on the first Sunday of every month. Service activities such as a small charitable dispensary and gruel-feeding to the poor on festival days were done. They held Gita-Saptaham and Bhagavata-Saptaham in Madurai. Every month, Sri Ramamurthy published booklets on sayings of Sri Ramakrishna. He also published arati songs and other stotras on the Holy Trinity with meaning (Sri Ramakrishna Kathamritam, a 26 page booklet published in 1945). His sahadharmini was a devoted lady and helped him in his spiritual pursuits.
He purchased 10 cents of land in Pankajam Colony at his own cost to build a temple for Sri Ramakrishna. Money for the construction of the temple was collected from the public. The foundation was laid in 1962 by the local MLA, Smt. Lakshmikantamma. In 1964, Srimat Swami Kailasanandaji Maharaj, the then President of Madras Math, dedicated the shrine and prayer hall, Sri Ramakrishna Prarthanalayam. In connection with this celebration a long procession was organized and Sri Ramakrishna's picture was taken on top of an elephant. Sri Ramamurthy had a deep devotion to Sri Sri Thakur, Ma and Swamiji and himself conducted the daily-worship and arati. Revered Swami Vireshwaranandaji Maharaj visited the shrine when he came to Madurai. Rev. Swami Ranganathanandaji Maharaj also visited and gave a lecture at the Saurashtra High school. Sri Ramamurthy always wanted that he should have a peaceful death. His wish was fulfilled in the year 1982. Sri Ramakrishna Prarthanalayam still continues to function as a private centre. Sri G.R. Radhakrishna, the only son of Sri Ramamurthy, is now looking after the centre.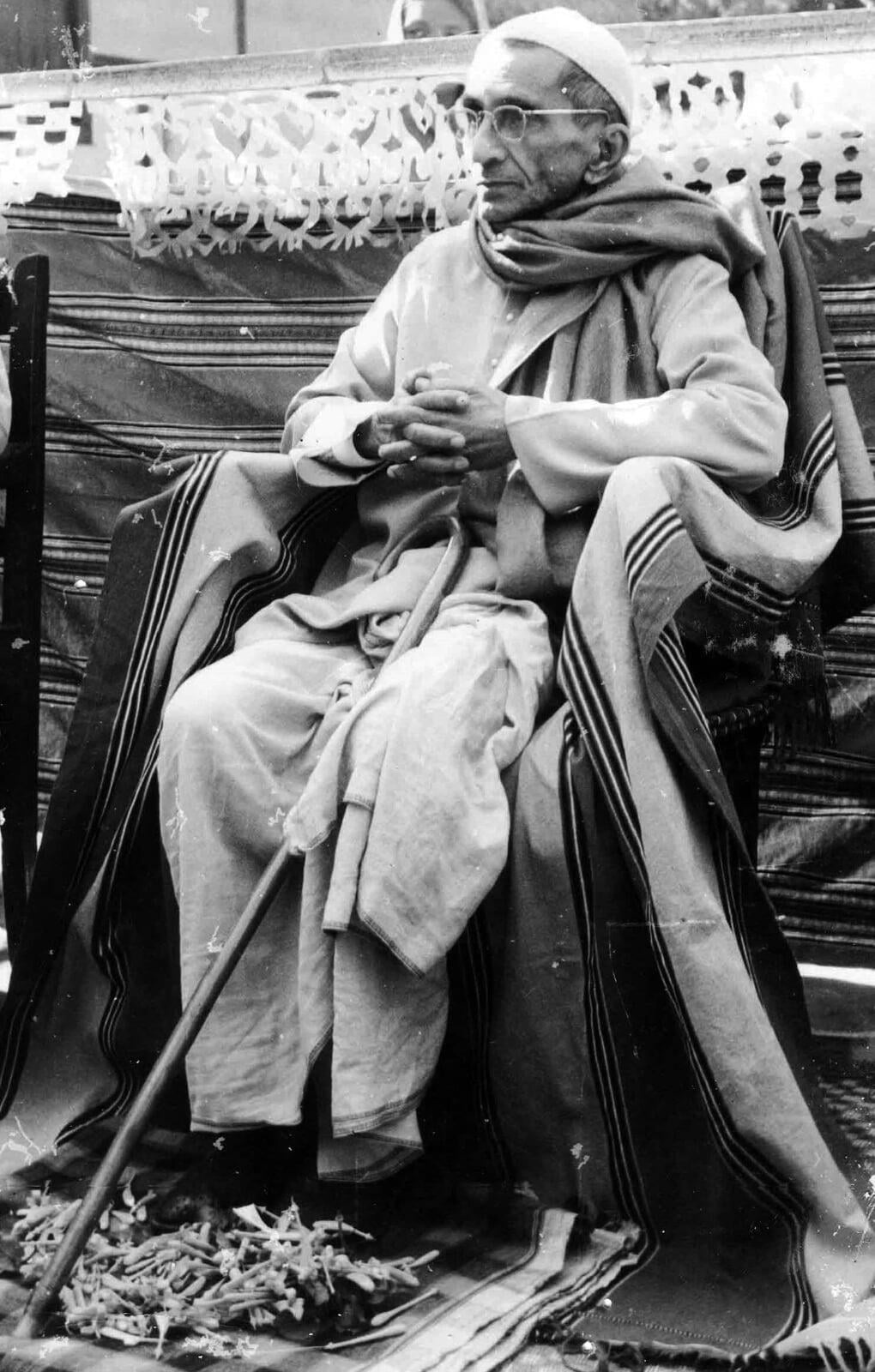 President of the Order visits Madurai and sows the seed
In September 1970, Most Revered Swami Vireshwaranandaji Maharaj, 10th President of the Ramakrishna Order visited Madurai on his return from Kanyakumari after inaugurating the Vivekananda Rock Memorial. Swamiji stayed in Ardhanary's house for three days. He vacated his house and stayed in a nearby house, leaving the entire house at the disposal of President Maharaj and a party of 15 monks. During his stay, Revered Maharaj gave initiation to the devotees. Some of the devotees were Mrs. Ardhanary, Mrs. Shanmugam, Sri G.R. Radhakrishna, Dhanraj (Late Br. Vijnanachaitanya), and others.

It was during this visit that Rev. Swami Vireswaranandaji Maharaj sowed the seed for a Private Centre at Madurai. Rev. Prabhu Maharaj felt the need for a Math centre in Madurai as many sadhus and devotees of our Order will visit Madurai to have darshan of Mother Meenakshi, on their way to Rameswaram and Kanyakumari. On his advice and inspiration Sri Ramakrishna Ashrama, a private centre was started with Sri K.Ardhanari as the Secretary and Dr.S.Shanmugam as the President.

The seed sprouts and grows
The group of devotees regularly met and held satsang, etc. In 1974 they formed an Association which was legally registered in 1975. A plot of land was gifted by Dr.S.Shanmugam for the ashrama and the proposed Sri Ramakrishna Hospital. The pratisthana ceremony of the shrine and the opening of the clinic was done on 3.7.77 by Revered Swami Tapasyanandaji Maharaj. Revered Swami Sarvajnanandaji Maharaj exhibited films on Sri Ramakrishna, Holy Mother & Sister Nivedita and gave commentary in Tamil. Later some additional land was purchased. The second building to accommodate the Charitable Dispensary was opened on 30-1-1982 by Swami Tapasyanandaji Maharaj. Swami Kamalatmananda spoke in Tamil. Due to Dr. Shanmugam's ill-health this building was utilised for running a Nursery Primary school and an Outdoor Dispensary.
Sri Ardhanary passed away in 1981 while gazing at the photo of Sri Ramakrishna. Dr. Shanmugam had to bear a lot of the responsibility after the passing away of Sri Ardhanary. One of our monks says this of Dr. Shanmugam, "I was a Brahmacharin at our Kozhikode centre. We were planning an excursion of our hostel boys to Madurai, Rameshwaram, etc. We got the addresses of Dr. Shanmugam and Sri Chandrakumar, son of Sri Ardhanary. I went on a pilot trip to all the places our boys were likely to visit during their excursion, to fix places for their eating, stay, etc. Dr. Shanmugam was of great help to me then. I had heard that the good doctor had done surgery on some of our Swamis. The day I went to Madurai, he had a difficult surgery to do. He did that, which I also witnessed for about 45 minutes. After doing more than about two and half hours of difficult surgery, he immediately came around with me to places near about without resting, in order to fix places where our boys would have lunch, etc. Later when we came with our boys, both Dr. Shanmugam and Sri Chandrakumar spent a lot of time with us. All of us stayed at the then private Ashrama at Reserve Lines. Dr. Shanmugam arranged for our affairs at Rameswaram also."

The members of the private centre were frequently and consistently requesting Belur Math to take up the Madurai centre. In 1985, Dr.S. Shanmugam & his wife Achi went to Belur Math and stayed for two weeks requesting for affiliation of the private centre, as it was started at the specific instruction of Revered Prabhu Maharaj. At the persuasive efforts (dharana by him: not to leave Belur Math unless he was given a concrete assurance) of Dr.S. Shanmugam, Rev.Swami Vireswaranandaji Maharaj assured through a Resolution of the Trustees of Belur Math to take over the Madurai Centre in principle (and on receipt of the official Resolution did Dr.S. Shanmugam leave Belur Math.)
When the matter was under discussion and consideration, Swami Nandanandaji Maharaj, an initiated disciple of Most Rev. Vijnananandaji Maharaj, was deputed to stay as a Guest Swami in the Private Ashrama , to observe and report about the Ashrama. He conducted Regular Puja at the shrine, held classes in the various parts of the city on Gospel of Sri.Ramakrishna, Upanishad, Bhagavad Gita and Letters of Vivekananda. He conducted whole day spiritual Retreat (Antar Yoga) on the last Sunday of every month. He used to visit the Meenakshi Temple every day by walk (a distance of 6 Kms.). His food was supplied by the Ardhanary family.
He had a personal touch with everyone visiting the ashrama. In the first National Youth Day he organized a procession of school boys and girls from Tallakulam Perumal Temple to the ashrama premises. It was concluded by a public meeting and prasad was distributed to all the students. The young volunteers co-operated with him in conducting the function. He also used to go to the Central Jail, where he used to address the prisoners and distribute sweets to them. Whenever children used to come to the ashrama he would ask them to byheart some hymns to the Holy Mother and present sweets to the successful children. He inspired many youths of Madurai to attend the first Youth Convention at Belur Math in 1985.
Many young bright boys and devotees were attracted by his love and erudite scholarship. He was training and conducting special classes for them on the lives and teachings of Sri Ramakrishna, Holy Mother and Swamiji. Among the early devotees, Shanmugasundaram, Ganapathy, Ravi, Pandian and Rameshbabu of Madurai, and Eswaran of Sivakasi, joined the Order. Many others have become close devotees and volunteers.
Swami Agehanandaji of Mysore Vidyashala was another guest Swamiji of the Ashrama. He was living with Swami Nandanandaji even before affiliation. He did puja and nurtured the garden of the ashrama. He inspired the youngsters who visited the ashrama laying stress on the service aspect as well as on the need to study Ramakrishna Vivekananda literature. He broadened their vision and guided them along the right channels.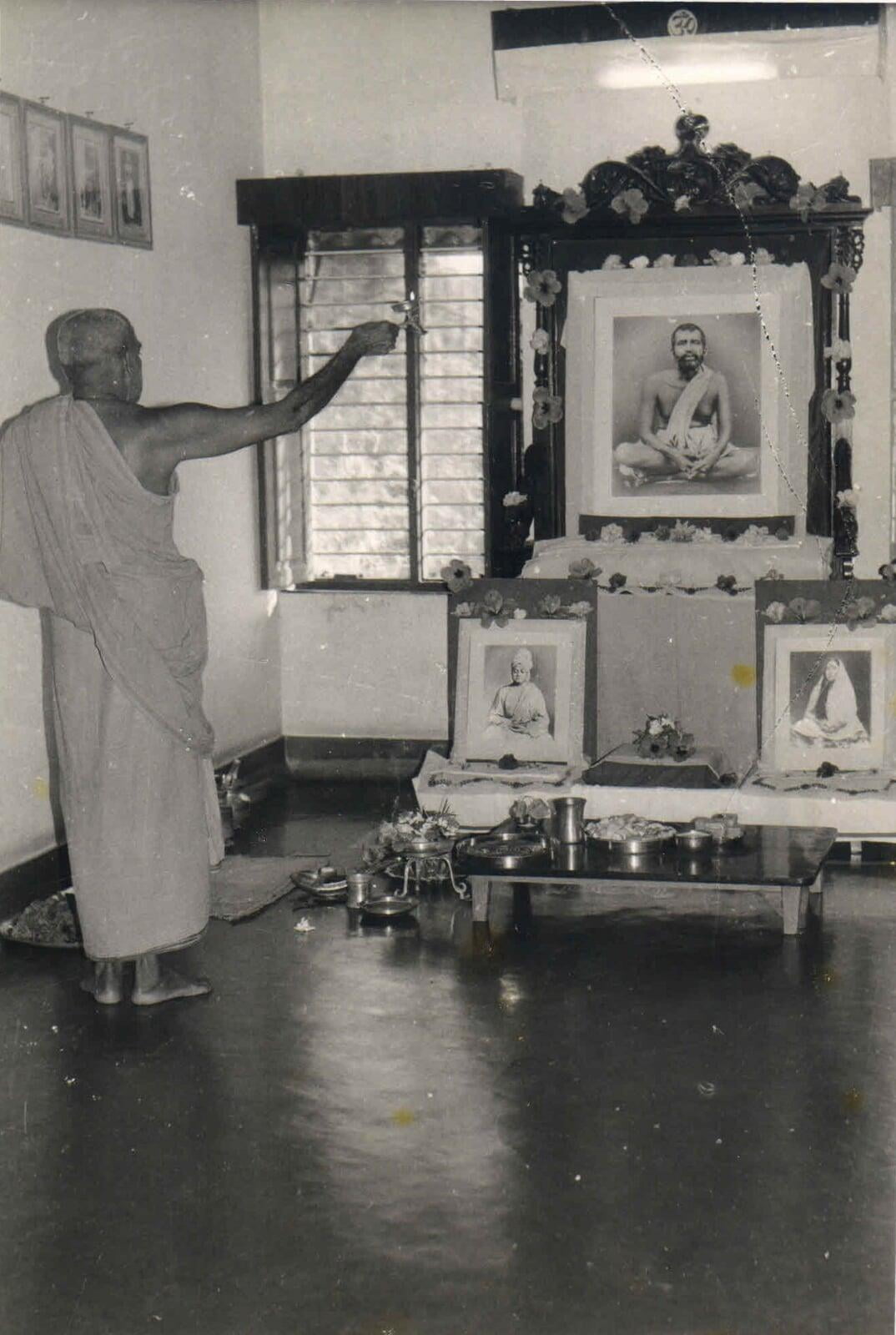 After affiliation

Most Rev. Swami Vireswaranandaji Maharaj attained mahasamadhi in the year 1985. A little after, in 1987, the ashrama at Madurai, with an area of 3.09 acres, was formally affiliated to Belur Math on the fervent appeal of the devotees and through the efforts of Rev. Swami Tapasyanandaji Maharaj.

Swami Chidghananandaji (Ramamurthy Maharaj), a disciple of Most Rev. Sankaranandaji Maharaj, who had worked in various capacities at Madras Math, Rangoon (Burma), Colombo (Sri Lanka) and Salem was selected as the first President. Rev. Ramamurthy Maharaj was an embodiment of simplicity and austerity. He seldom used a shirt or banian except when going out of the Math campus. When he took charge, the Math was located in an asbestos shed with the shrine and three rooms. This was a multipurpose one – shrine and prayer hall, lecture hall, monks' quarters, kitchen and dining hall, library and reading room, visitors' room, etc. He did the puja and the evening arati.

There was another building which was used as a nursery and primary school cum dispensary. Financial position was just enough to meet bare minimum needs. He stuck on to the post in spite of the difficulties and hardships and continued as the President till September 2000. He used the open portico of the Dispensary building as the Presidents' Office as long as he was in charge. It was a blessing in disguise as he was available always to devotees and staff. He won the hearts of all by his affectionate and humorous nature. Devotees from Singapore who visited the Math were amazed by his simple life and open-hearted nature in contrast to their western style of life. His love and concern for the poor made him to initiate the programme of distributing snacks to the poor children of the nearby slums.He encouraged the youngsters who were visiting the ashrama to stay in the ashrama during the weekends, meditate, study Ramakrishna-Vivekananda literature, assist in the various works of the ashrama, and take food in the ashrama. While coming to the ashrama during the weekends they used to purchase the vegetables and other things required for the Math from the town. They were guided by Chidghananandaji to do all types of works in the ashrama – Shrine work, painting of furniture, cleaning the premises, etc. Later, Rev. Swami Tapasyanandaji Maharaj also sent a young boy to join the Math at Madurai.
From 1987 to 1998 the Madurai Math had undergone very hard days, had almost re-witnessed the Baranagore days of the Direct Disciples. Not much monetary support was to be had from the general public. However, a few devotees lovingly gave money according to their means and more than that they did a lot of voluntary work for the Math with wholehearted devotion. Puja, Sunday classes, Birthdays (Tithi – Puja) of the Holy Trinity, Spiritual Retreats, etc., were conducted with faith and devotion. Many young volunteers joined the Order. Through the influence of Madurai Math about 10 boys have joined the Order till now. A few girls also have joined the Sarada Math or Sri Sarada Samiti (a private ashrama) of Salem.
One of them (now a Swami of the Order) reminisces, "Rev. Swami Nandanandaji Maharaj was around eighty years when he came to Madurai ashrama. There was an Amalaka tree opposite old shrine building. Revered Maharaj started doing his Japa and meditation under the tree sitting on a chair. Rev. Maharaj had strong belief that his practices would fructify because Sri Sri Thakur himself told that spiritual practice done under Bel and Amalaka trees bring God realisation. Rev. Maharaj's conviction and belief in Thakur's words struck me very much. After some time Rev. Chidghananandaji Maharaj (who took charge as the first President after affiliation) constructed a cement platform, as it would be convenient to Rev. Nandanandaji Maharaj. It showed his loving concern for a senior sadhu. Both the swamis had love and respect for each other. Rev. Nandanandaji used to collect funds for the projects started by Rev. Chidghananandaji. Though a diabetic patient Rev. Nandanandaji went around Madurai and other places like Salem, Coimbatore, Vijayawada, etc. for fund collection. Rev. Swami used to tell "it is better to wear out than to rust out" and desired that the Temple for Sri Ramakrishna should be completed by the time Swamiji reaches Madurai (ie., Centenary celebrations of Swamiji's Return to Mother land –1997). But for so many reasons the temple work could not be completed in his lifetime as he met with an accidental fall in Tiruvalla centre in Kerala and after a brief hospitalisation in Trivandrum he passed away."
Another swami reminisces of the early days after affiliation, "There were four types of devotees during this time. First, old devotees like Dr. Shanmugam, Ardhanari's family, Sri Radhakrishnan, and many others. They all did their best for the Math. Secondly, young volunteers who were aiming to join the order. Thirdly, boys from the police quarters. The second and third types did many odd jobs, marketing, painting, etc. While here, they played, worked, sang, and had religious classes. Lastly, the boys and girls from the hutment at the back of the Math. They came attracted by prasada, but remained attached to the Math and to Sri Ramakrishna. We had bhajans especially for them everyday after Arati. Some of them learnt to sing Arati songs. They worked during retreat days, cleaned vessels, etc. While the Madurai Math is in a relatively good condition today, it owes much to all these four types of devotees."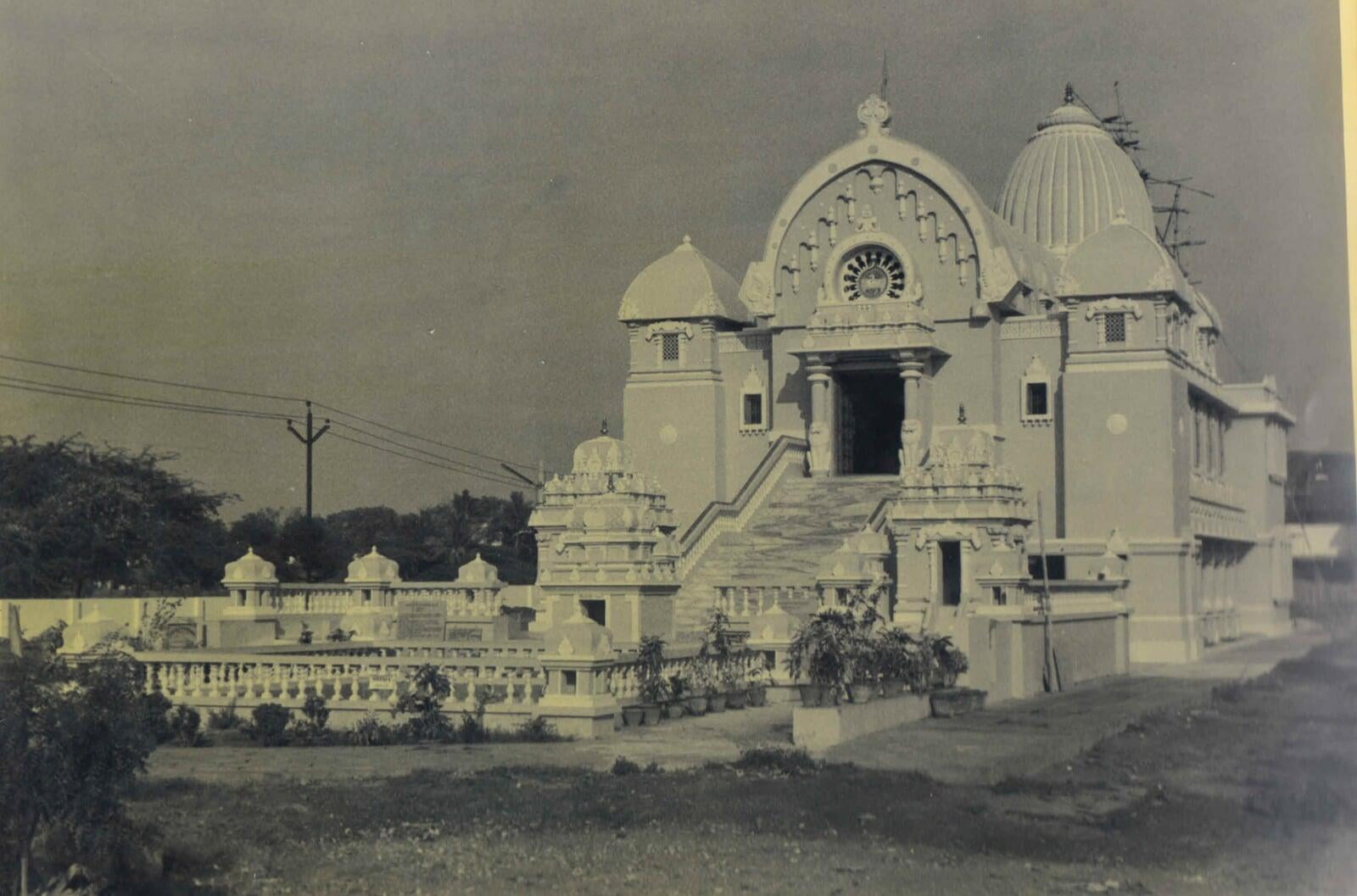 Earlier, Rev. Swami Tapasyanandaji Maharaj had requested one Singapore devotee, Sri M. Arumugam, to do something for Madurai Math and forced him to visit the Madurai Math. In deference to his wishes taking it as a Divine will the devotee agreed to donate a huge amount for constructing a new Temple for Bhagavan Sri Ramakrishna. He donated Rs. 25 lakhs. Srimat Swami Gahananandaji Maharaj, Vice President of the Order, laid the foundation on 24.4.1994. Devotees from Madurai and all parts of India and some other devotees from Singapore contributed liberally for the construction of the Temple, which was completed within 4 years. The new temple for Bhagavan Sri Ramakrishna was finally consecrated by Srimat Swami Ranganathanandaji Maharaj, Vice President, on 13.3.1998. On the previous day Revered Maharaj opened the new Sadhu Nivas also. The number of devotees visiting the Math has increased considerably after the consecration of the new Temple.

Swami Kamalatmananda former editor of Sri Ramakrishna Vijayam, Tamil monthly journal of the Order, is the current President of the Madurai Math. He took charge on 1st September 2000. Various new service activities are being taken up as time rolls on.
Here ends the brief history of the Madurai Math. We have given only a few incidents. The Math is continuing to grow with the sincere efforts of monks and devotees. As Swami Vivekananda said this Math is becoming a great centre for service of humanity and for the propagation of noble ideas to take all humankind towards their goal of fulfillment.